Published 10 Aug 2023
Ecobanner™ - Australian Made, PVC Free, Fully Recyclable Billboard Fabric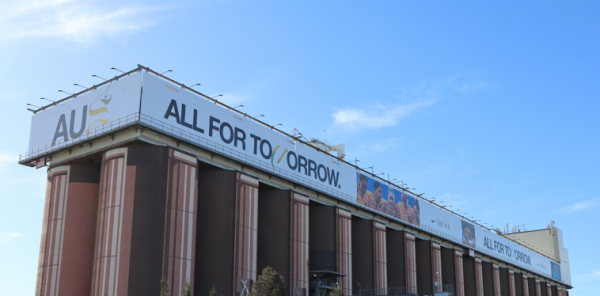 Ecobanner™ was designed by GALE Pacific in conjunction with the Out of Home advertising industry to address concerns around sustainable manufacturing, and align with the global trend of removing non-recyclable plastics from the supply chain.
Want to know more?
To find out more about Ecobanner™ visit galecommercial.com/ecobanner
Ecobanner™ in action
Working together with oOh!media and Cactus Imaging, Ecobanner™ has been launched on the Southern Hemisphere's largest billboard, the Glebe Island Silos in Sydney.
In the words of Sarah Young, Group Director, ESG at oOh!media…
"We needed a 100% recyclable material that was suitable for oOh!'s network of larger billboards and those at heights which are exposed to high winds and still rely on non-sustainable vinyl. The Ecobanner™ meets these demands and we are delighted to be the first Australian media company to be using it:
Ecobanner™ is manufactured in Australia using cleaner and more sustainable processes than PVC. Unlike the PVC manufacturing process which produces toxic carcinogens and byproducts, Ecobanner™ production doesn't generate hazardous residue like Vinyl chloride monomer (VCM), making it a cleaner alternative to PVC.
Ecobanner™ is part of the journey, it can facilitate a future state where banners are repurposed back into the manufacturing process, bypassing landfill.
By choosing Ecobanner™, businesses can make a conscious effort to support sustainable procurement, while effectively reaching your target audience.