We're committed to recycling
GALE Pacific understands the desire of our customers to be responsible corporate citizens. We also recognise a need to keep costs under control. We share the same goals, along with an interest to recycle second-hand product and minimise our environmental impact.
Unlike commercial textiles such as PVC, polypropylene (PP) and polyethylene (PE) products are fully recyclable in Australia, however they are usually consigned to expensive and unsustainable landfill at end-of-life. Through our quest to implement a closed loop recycling program we not only eliminate landfill but can ultimately convert retired product to new material.
Our Landmark recycling project has been successful across lab and field testing, we are currently working with industry partners to increase the use of recycled commercial textiles. Click the diagram below to view our short video.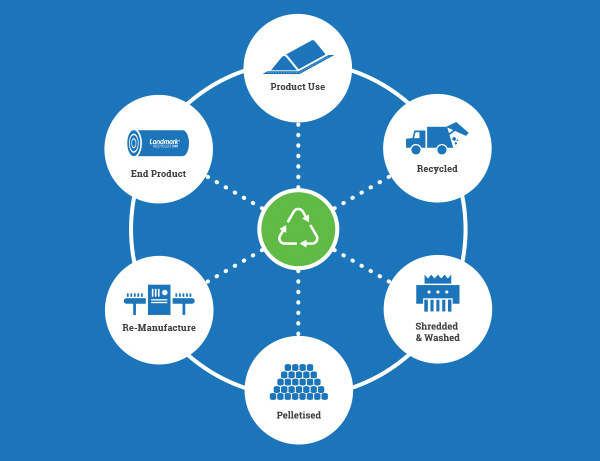 Oeko-Tex Standard 100 and Greenguard certification
The demand for healthy, sustainable products continues to grow. Consumers and building industry professionals alike are increasingly looking to qualify a product's sustainability claims to ensure they are substantiated. And they are relying on trustworthy third-party certifiers to guide purchasing and specification decisions.
GALE Pacific's Architectural Shade Fabric range all achieve Oeko-Tex Standard 100 and Greenguard children and school certification.
The Greenguard and Oeko-Tex Standard 100 certifications set stringent limits for products to achieve in several key areas such as:
Limiting Volatile Organic Compound (VOC) content
Lowering formaldehyde emissions
Lowering lead and phthalate content
Greenguard and Oeko-Tex Standard 100 certification provides the market with solutions and resources to ensure healthier environments. It also provides manufacturers with credible tools to legitimise and promote their sustainability efforts.

Coolaroo Umbrellas Timber FSC® Strategy
The Forest Stewardship Council® (FSC) is an international, non-profit association whose membership includes environmental and social groups and progressive forestry and wood retail companies working in partnership to improve forest management worldwide
FSC accredited certification means that the forest of origin has been independently inspected and evaluated according to environmental, social and economic principles and criteria agreed by the FSC
High profile retail supporters of the FSC strategy include Home Depot, Lowes, Costco and B&Q in the USA, Kingfisher in the UK and Bunnings nationally in Australia
Once accredited with a Chain of Custody (COC) certificate, we will feature The FSC logo on product and in promotional material
All of the Coolaroo Timber Umbrellas will feature the FSC logo, identifying them as products which contain wood from responsibly managed forests independently certified in accordance with the rules of the Forest Stewardship Council, A.C.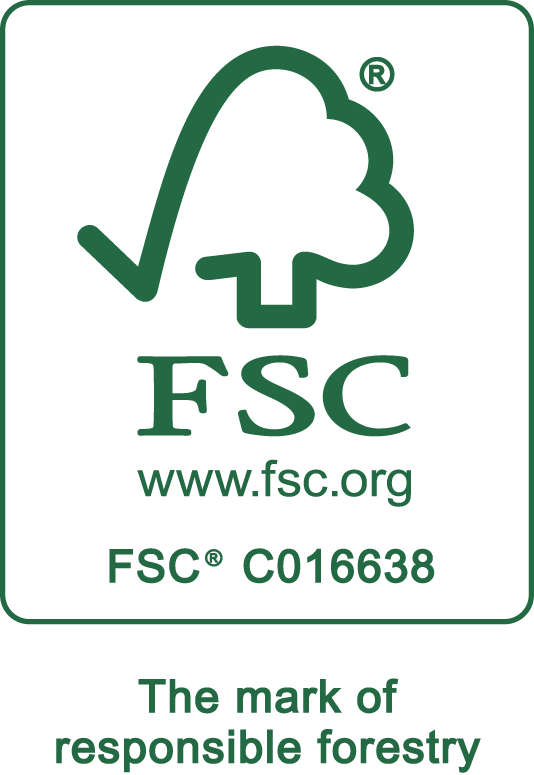 Download our FSC Statement (pdf)
Australian Packaging Covenant
GALE Pacific Limited (GALE) is a publicly listed Australian Company and is a signatory to the Australian Packaging Covenant. We remain committed to the concept and principles consistent with the objectives of the Australian Packaging Covenant. GALE will continue its obligation to the goals of product stewardship, packaging sustainability, and making a difference to minimising the environmental impacts of packaging.
We are committed to:
Protect and deliver goods efficiently with minimum environmental impact.
Use resources (including materials, water and energy) more efficiently.
Reducing the amount of waste and litter generated by packaging through facilitating the waste hierarchy – Avoid, Re-use, Recycle, Recover, Contain, Dispose.
Minimising negative impacts of packaging and packaged products on humans and the natural environment.
Ensuring effective and clearly documented practices are in place to address environmental concerns of packaging and packaged products in the Product Development and Review process.
This document outlines a detailed Action Plan including Key Performance Indicators (KPI's) to be implemented by GALE Pacific Limited over the next 12 months. We look forward to a continued partnership and to see the success of the Australian Packaging Covenant.