Published 01 Aug 2019
Commercial DualShade® 350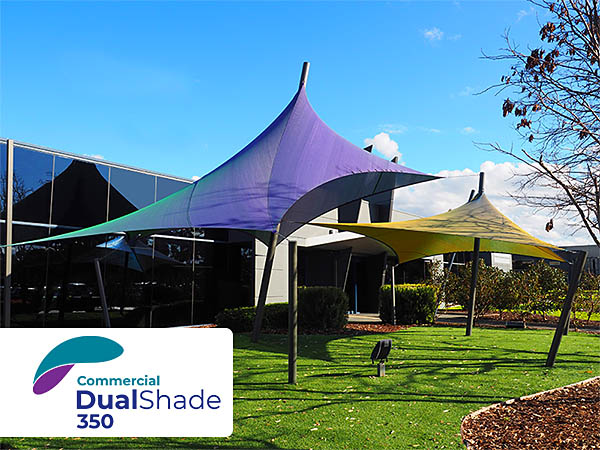 Design and performance come together in a beautiful, high performing new fabric that is Commercial DualShade® 350. This fabric offers maximum durability and superior dimensional stability achieved through GALE Pacific's proprietary knit pattern.
Commercial DualShade® 350 features a single colour on one side and a complementary colour on the opposite side. These two different colour yarns are combined to form a single, dual-coloured fabric that produces a shimmery, iridescent effect when used in a tension structure. Colours shift and beautiful gradients are created as the light changes and the fabric is viewed from different angles.
GALE designed an array of twelve colour combinations that come together in three alluring collections –Brilliant, Destination and Terrafirma.
This architectural shade fabric offers the ultimate combination of sun protection, strength, and durability and is backed by a full 10-year warranty against UV degradation. It is made of high-quality breathable knitted fabric that allows a breeze to flow through, keeping environments cool and comfortable.
Commercial DualShade® 350 truly is an innovative, game-changing product. Find out more at https://www.galecommercial.com/en_au/product/commercial-dualshade-350